---
OFFICIAL; Delta Technology,  based in Temple, Arizona, has been granted exclusive representation for Solutech Packaging Systems equipment in the western United States – Delta will be providing sales and service support to customers in this region.
DELTA TECHNOLOGY has earned a strong reputation for their ability to design, build and service custom equipment, solving difficult applications for their customers, and improving their production capabilities. In addition to being an official FANUC systems integrator, Delta Technology has now added a new line, Solutech Packaging Systems to their equipment offering allowing them now to provide turn key and complete end of the line packaging solutions. Solutech is a leading manufacturer of palletizers, stretch wrappers, as well as material handling solutions including pallet inverters and pallet dispensers.
Delta will represent Solutech in the following states; CA, AZ, NM, UT, NV, OR, ID, WA and TX.
Solutech and Delta just completed a very successful trade show together at West Pack in Anaheim, California where this mutually beneficial agreement was sealed.
Matthew Lanfrankie, Senior Sales Manager at Delta technology, will be responsible for Solutech Packaging Systems in this region.
 
Senior  sales  manager Matthew Lanfrankie, Delta Technology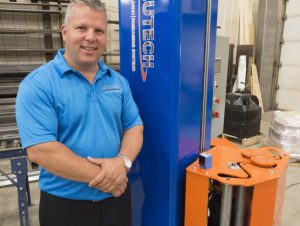 Stéphane Côté, CEO, Solutech Packaging systems