---
It is clear that there was a need for customers for a North American portable pallet packaging machine with all the robustness of construction which is our trademark at Solutech! And since it is easy to find the components in North America there was only one step left for the creation of this little robot. Customers tried European machines but the comment frequently came back where several problems were mentioned with regard to the accessibility and the cost of spare parts; also the durability products probably lead by a certain tendency for some European manufacturers to manufacturer with a life duration as equal as washing machines and dryers. We at Solutech see further and we manufacture equipment that last … robust and reliable. Still according to our desire to innovate, it was noted that European technologies use commercially unavailable parts and this is a major irritant for North American customers. So at Solutech we decided to create our own model with several improvements in order to meet customer's needs.
That's why our engineers have invested a lot of energy to eliminate the irritants observed by customers to design the portable machine of the future!
The Solutech Packaging System, Intelli-Wrap 3.0, for example, allows distribution centers to limit pallet handling, operators picking in the aisles to build their customer's pallets; when finished, they place them on the ground near the shipping doors so that an operator will use the intelli-wrap 3.0 robot to pack the pallets one after the other, which means that the next handling of the pallets will be to load the truck, instead of putting the pallets on a stationary wrapping machine using fixed floor space, even meaning a waste of time by the waiting operators because the fixed machine is used, then when the packaging is completed operator takes it again and drops it near the shipping doors, waiting for the truck which will again require handling for loading. So this technology becomes very interesting.
It is very important to note that several distribution centers still hand-pack; a machine pre stretches the film before applying it to the pallet so for 12 " of film to the machine you use 36 " with the film by hand, the constancy of packaging the machine always packs in the same way and uses the same amount of film, the operator does not, the packaging operation is a task not very pleasant and even potentially dangerous whereas a machine saves you time because during packaging the operator can ensure to other tasks. Moreover, the safety of your product to its destination and without damage is ensured by a machine which pre-stretching the film creates the effect of elastic band making it possible to secure the product during transport.
In addition, we have also identified a market for people who have pallets too large to be wrapped on conventional stretch wrappers. Our Intelli-Wrap 3.0 technology allows packaging regardless of the length or width of the pallet; obviously very interesting!
So…. need for portability this machine is motorized and runs with batteries by 10 hours of charging for 10 hours of operation and can be moved easily by the operator; need to free up floor space? This wrapper may be stored after use versus a stationary stretch wrapper.
Any questions please do not hesitate to contact us!
SPECIFICATIONS SHEET: INTELLI-WRAP  SEMI-AUTOMATIC PORTABLE STRECH WRAPPING SYSTEM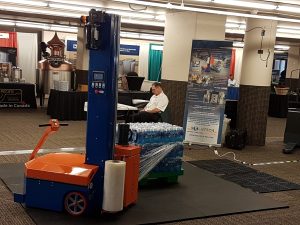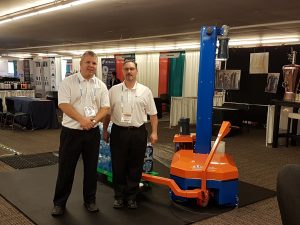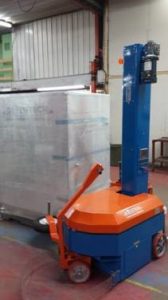 To wrap 15-20 loads per hour, this machine is ideal for distribution centers.
Perfect for distribution centers, wrapping pallet to pallet, avoiding double load handling.
Ideal to wrap oversize loads, avoiding high costs of custom machines.
Operates with batteries , 12 hours of autonomy, for 8 hours of charging time.
With it's capacity to pre stretch the film, this machine offers a 20'' film carriage, including several
Advantages:
Considerable film costs reduction;
Better pallet load retention for a safe shipment;
Provide a lesser environmental foot print than manually wrapped loads
Solutech offers 25 years experiences, in the manufacturing of stretch wrappers of all kinds, palletizers and material handling equipment.
We introduced our Intelli-Wrap 3.0 in Portland, OR when we were exhibiting at Craft Beverage Expo 2017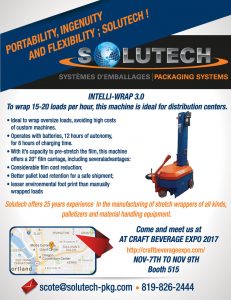 BB -web team